About AmpTone Lab
---
Thank you for visiting AmpTone Lab website. My name is Daniel, I live and work in Poland and I would like to say a few words about AmpTone Lab history, focusing on some important milestones. I guess this is better than reading yet another post about how great the company is and how dedicated it is to making the best products ever. Although, of course, AmpTone Lab is great and dedicated to making the best products ever.
Looking back…
Preparations for the launch of AmpTone Lab started in mid 2010. Having very solid engineering background, I probably had it a bit easier than many people out there. The first product I designed was XY MIDIpad, a touch screen MIDI controller for electric guitar. This was inspired by guitarist Matthew Bellamy of the band Muse, who uses similar technology in some of his Manson guitars. I decided to take this idea to the next level by adding many new features and making the installation process easy for everyone.
XY MIDIpad
The response I got after debuting XY MIDIpad in February 2011 far surpassed my expecations. Orders were coming from all over the world and it was very difficult to keep up, especially due to being forced to run only small manufacturing batches. Having to go to school didn't make it easier either 🙂
New website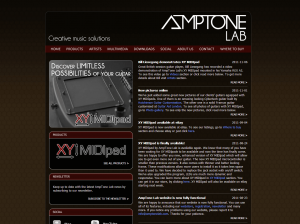 In August 2011 new AmpTone Lab website was launched; you can see it on the right. It featured online shop, so from then on it was possible to handle most orders without being dependent on eBay, which sped up shipping and delivery of the products to customers worldwide.
XY MIDIpad mini
One of the things that customers were suggesting was to make it possible to install XY MIDIpad in Strat guitars. XY MIDIpad was too big to fit next to the Strat bridge, so decision was made to shrink some components down a bit. That's how XY MIDIpad mini was born. XY MIDIpad mini debuted on March 2012 and had all XY MIDIpad features but in a smaller form factor.
MIDI Strip
November 2012 saw the premiere of MIDI Strip which featured similar concept as XY MIDIpad, but with different method of controlling external devices. This time a resistive strip was used instead of a touch screen. Just like with previous controllers, main focus has been put on simplicity of usage and installation.
MIDI Custom Shop and MIDI Splitter
After spending whole 2013 on improving the manufacturing process, making sure all AmpTone Lab products are always in stock, ready to ship worldwide at any time and also launching new branch named MIDI Custom
Shop, late 2014 saw the premiere of MIDI Splitter – a thru-box which can be used for one of AmpTone Lab controllers or any other MIDI equipment.
Where did the name come from?
Unfortunately, there is no great story behind the AmpTone Lab name. Or maybe this is exactly what they call a great story? My father used to work under almost exactly this name many years ago. He used to make custom amplifiers and effects in the dark years of communism in Poland. Since I didn't have any idea what name to use, I decided to go with this one, much to my father's approval.
Present
AmpTone Lab still remains operated mostly by me, but thanks to the experience and contacts I have managed to obtain throughout the years, I am now cooperating with many amazing specialists on multiple areas of my work. That way I can take care of the most important things myself, whilst having all the other time-consuming activities dealt with by the experts.
Closing words…
Big thanks to all the AmpTone Lab users around the world and to everyone involved in designing and manufacturing these products. Special thanks go to Marta and my parents, whose help was invaluable in the early and not-so-early days of AmpTone Lab.
– Daniel Wroblewski
AmpTone Lab